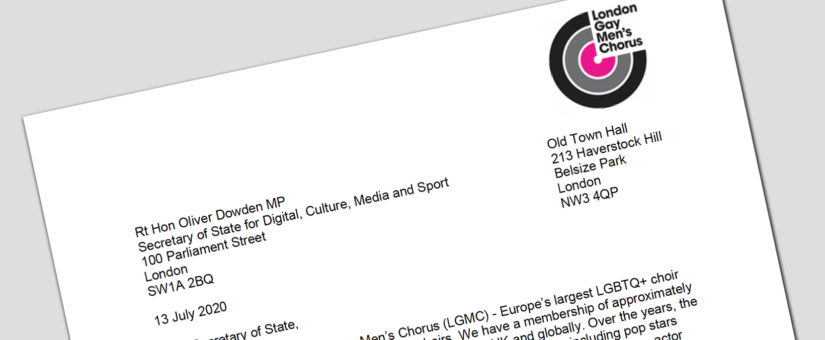 Rt Hon Oliver Dowden MP
Secretary of State for Digital, Culture, Media and Sport 100 Parliament Street
London
SW1A 2BQ
13 July 2020
Dear Secretary of State,
I am the Chair of the London Gay Men's Chorus (LGMC) – Europe's largest LGBTQ+ choir and one of the country's largest male voice choirs. We have a membership of approximately 300, and have performed in venues across London, the UK and globally. Over the years, the chorus has been lucky enough to have worked with a range of artists including pop stars Mark Ronson and Elton John, soprano Lesley Garrett, country legend Dolly Parton, actor Simon Callow and comediennes Sandi Toksvig and Katherine Ryan. As well as performing to thousands annually, we have a substantial education and outreach programme which seeks to engage with schoolchildren across the capital – teaching the importance of diversity through music.
We were very encouraged by your announcement on Thursday 9 July, offering guidance on how outdoor performances could take place across England from Saturday 11 July. We are greatly encouraged that, after months in lockdown, performing arts organisations across the UK will soon be able to reconnect with audiences and local communities.
We noted in the guidance that only professional performers will initially be allowed to sing together, with appropriate social distancing in place.
The LGMC is keen to begin rehearsing and performing again as soon as it is possible to safely do so, in accordance with government guidance. We have already identified a potential outdoor venue (a large rooftop space in The City) where small groups of singers taken from the chorus can come together to rehearse. This will allow us to adhere to social distancing guidelines alongside other procedures required to conduct rehearsals safely.
As a leading non-professional music-making organisation, we are keen to support the government in any way we can to help choirs across the UK get back together again to rehearse and sing once more. We believe we are ideally placed to act as an ambassador for the government's approach to non-professional performance. Over 2 million people across the country are part of a choir, and they have a vital role to play in bringing communities together after a national trauma, promoting positive mental health and community pride.
With this in mind we would like to offer ourselves as potential pilot subjects for any scientific studies DCMS is undertaking around the safety of non-professional singing in groups. We can provide a group of any size to help inform best rehearsal and performance practice. We can mobilise swiftly and would be more than willing to support you and the DCMS in any way we can. We are used to thinking creatively, and can adapt to different ways of performing and rehearsing with ease.
We would also like to request that the DCMS publish a roadmap to help non-professional music-making organisations to help them plan for recovery over the coming months, with a phased approach to returning to normal rehearsal and performance procedures alongside specific 'no earlier than' dates to give some sense of when performance in non-professional groups can once again take place.
We understand the need to protect communities against the spread of Covid-19, and want to be clear that we are not advocating returning to any sort of rehearsal or performance before it is safe to do so. However, with plans in place for professional musicians, we believe it is the right time to now turn attention to the thousands of non-professional organisations across the UK and recognise their need to be able to plan for future recovery.
Thank you for taking the time to consider our requests. We look forward to your reply, and would like to invite you to a performance, or to see a rehearsal, at your earliest convenience.
Yours sincerely,
Anthony Hull
Chair, London Gay Men's Chorus
Posted by Andrew Levey
On July 13, 2020
0 Comments