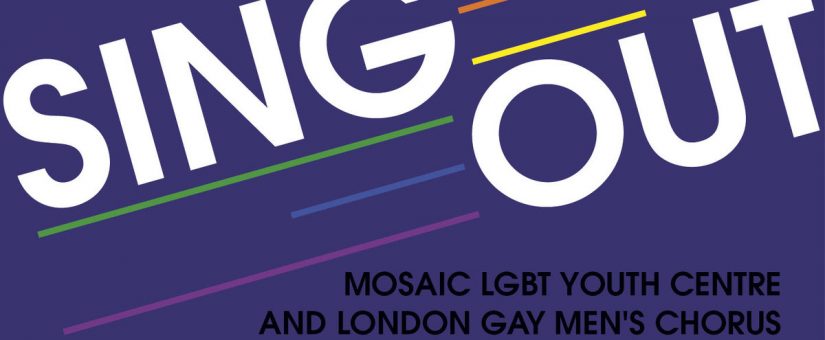 A few months ago, the inspiring Steven Smith working with LGBT young people from Mosaic LGBT Youth Centre and with my fellow singers form the London Gay Men's Chorus launched the sensational Sing Out Project.
The project saw Steven working with the young people to share their experiences, fears, celebrations and challenges growing up LGBT.
Before anyone knew what was happening, there was a flood of a million and one issues facing young LGBT people and the process began of turning it all in to a song.
Steven worked with the young people to teach them skills in writing lyrics, composing music and performance skills. The young people were so excited to have their feelings listened to and a chance to learn so much while channelling their experiences into a song for everyone to hear and listen to what's important to them.
With a lot of hard work, dedication and passion a song was born – and a rather catchy one at that!
The buzz and excitement of the young people was unreal as they entered the recording studios at the Camden Roundhouse to professionally record their very own track!!
In all the excitement of the sound desks, microphones, a stunning band and the glamour of a studio, the fact that this was all about what they wanted to say and making sure they were heard was something none of us could help but be moved by.
The single was officially launched on 29th February with an amazing performance given by the young people with the backing of the London Gay Men's Chorus to an audience of family, friends, funders and charities. How the tears were held back so much, I don't know but to say I was proud of the young people and how far they've come with the support and encouragement of Steven and Mosaic would sell it short.
At the start of the process, many were too shy and unconfident to even join in a singing warm up. But last night, every single one of them shone as a confident, happy young adult with a future made just a little bit brighter because someone listened to them and reminded them they count. Someone believed in young people.
And now you can too. All the profits from the single sales will go to help keep Mosaic LGBT Youth Centre open in the face of more LGBT youth project government cuts for the young people that rely on their support and belief, so go down load it now – I can guarantee it will be stuck in your head for weeks!
Posted by Andrew Levey
On March 9, 2016
0 Comments