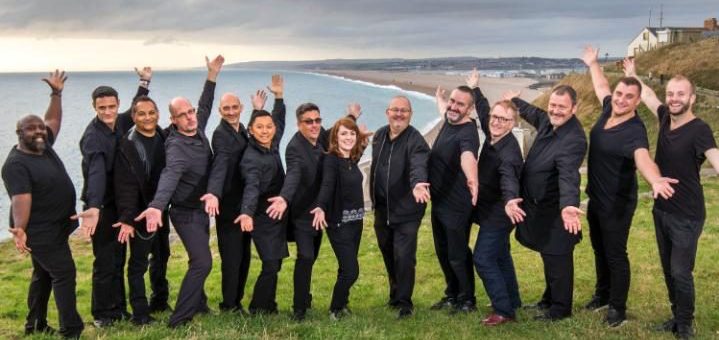 Hi, I'm Donald, a member of the London Gay Men's Chorus, and one of the Shame Chorus singers.
Being part of Shame Chorus has been life-changing. But how clichéd does that sound?
Even to me it sounds typical of the hyperbole that surrounds many new ventures, products, experiences that clamour for our attention.
But the authenticity of that view or feeling is shown in the way the music has moved, challenged and even comforted our audiences, shifted some prejudiced thinking, created new friendships, surprised old friends, and specifically back to the music, has continued a conversation about what a gay chorus can be.
All the music has been based on interviews by psychoanalyst Susie Orbach with twelve or so of the boys of London Gay Men's Chorus. These interviews focussed on gay shame, 'coming out' stories, and transformation.
These stories remain anonymous where interviewees choose that, but I'm happy to identify myself as one of the boys who was interviewed. I chose this because, for me, it seemed in the spirit of the project, that of using the transformative power of Art to show that it's ok to feel doubt and shame about an aspect of yourself and that, more importantly, after any revelation there is light, life and joy on the other side. On the other hand, sometimes life can go on uninterrupted, surprisingly.
It's taken a while to get to this point of going fully public – about two and a half years since inception, eight months of rehearsals. And we're performing the full collection of all twelve new songs, with accompanying narrations, for the very first time this Saturday.
No spoilers, but two composers come to mind. There's Benjamin Till, who wrote 'My Gay Wedding: The Musical' in which the LGMC sang for a Channel 4 production, and David McAlmont, once of McAlmont and Butler, who is still a prolific performer. David's piece has a jazz-fuelled, gospel sound and Benjamin's wouldn't be out of place slipped into Wicked or Billy Elliot. We have a piece by Billy Bragg that I'm just getting used to singing without tears in my eyes, and a work-in-progress by the formidably-talented Conor Mitchell who wrote a piece with Mark Ravenhill for the LGMC for its 21st anniversary concert at the Festival Hall in 2012.
On a recent weekend, the Shame Chorus boys took the A3 out of London by coach heading for the b-side festival in Portland, Dorset, to sing nearly all the songs in two gigs. The first gig was on a cliff with the sun setting behind us, the other the following morning in the sturdy 18th century decommissioned church, St George's, built by Thomas Gilbert whose grandfather supplied the Portland stone used in St Paul's Cathedral.
An audience of over 300 crammed into tiny St George's. We sang part of our programme on the cliff additionally with a local women's singing group and some of our band of strolling singers joined DJs Crumpet Clare and JonnySlut at 'Frolic', a night of old Disco at the Portland British Legion. Wild!
I'd been to Weymouth before but never Portland. We would be there for just 24 hours but as I've always had an impression of Portland as being a distant, eerie peninsula, I imagined a welcome similar to that given to Edward Woodward's character in 'The Wicker Man'. On arrival I had a completely transformed view. Strangers immediately struck up conversation in the hotel café and we were quite the lively invasion, truly, warmly welcomed.
Our audiences felt easy about joining us after our gigs to chat. We'd moved them and in turn they moved us. The most haunting and uplifting conversation was with a mother whose son had committed suicide because he couldn't cope with being gay. She came to us in tears, letting us know that she found some solace in our music and stories, and understanding the tangle of her son's confused feelings a little more. As one of our songs repeats, 'This is why we sing'.
Going back to the cliché, but never truer, the project has been a journey. An adventure, bumpy in places, testing and strengthening us in many ways as we travel together through the music, the reception from other people along the way mutually encouraging. Who knew this project would be so moving, funny and thought-provoking?
One last thing. It's been great to work with our accompanists and huge thanks must go to artist Jordan McKenzie and his team for getting me and the boys into this adventure in the first place.
Thanks and love, D
Posted by Andrew Levey
On October 6, 2016
0 Comments