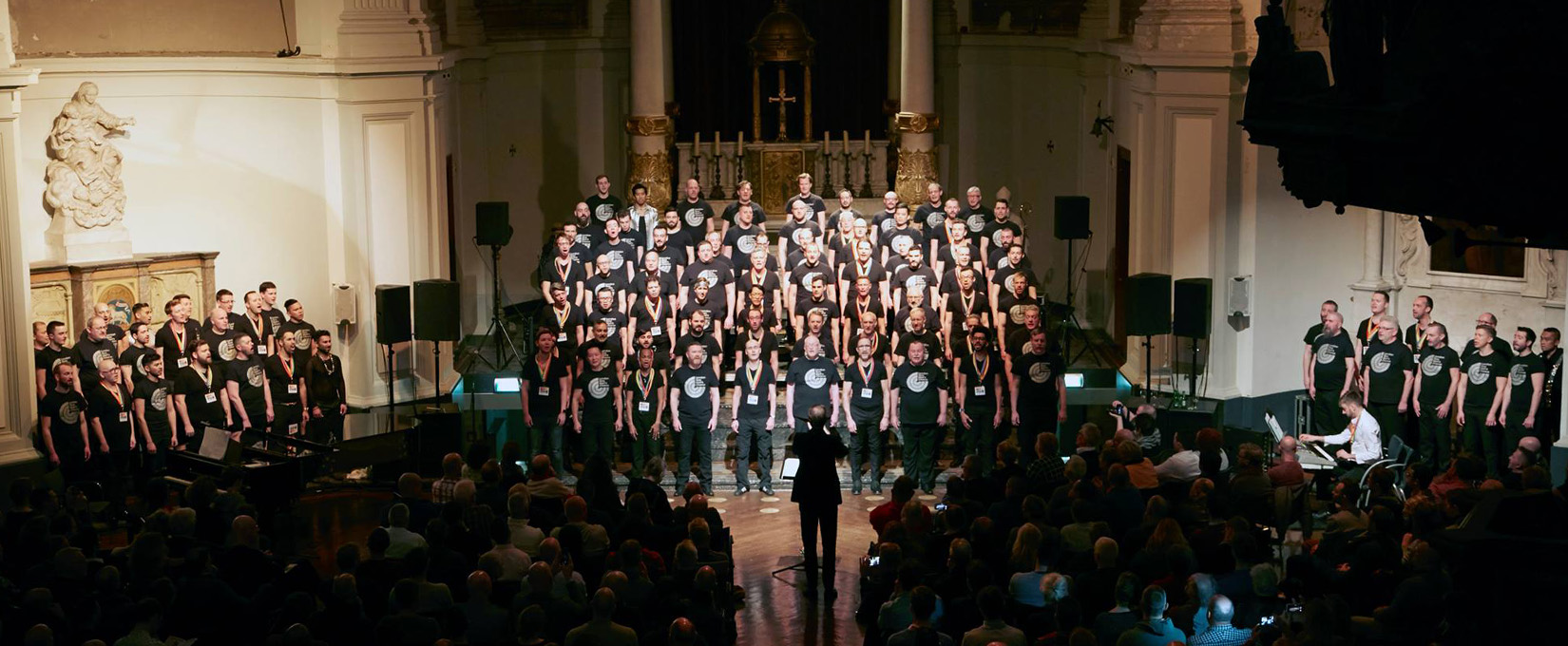 Last weekend, we travelled to the Netherlands to perform a special concert, Together, with the Amsterdam Gay Men's Chorus (AMSGMC).
Back in 2015, Gerald Eijt (the chairman of the AMSGMC) reached out to ask if he could meet and find out more about how the LGMC works. The AMSGMC was only a few months old at that time, and they hoped to gain some insight that might help them develop their Chorus.
At the LGMC we see it as part of our responsibility to help other new choruses where we can – sharing our experiences of what works and what doesn't – in the hope that we can help them in their growth. Our chairman, John D. Carrion, and our General Manager, Michael Cheetham, therefore met with Gerald in London the day after our 3-day, sell-out Big Gay Swing at The Roundhouse. Gerald later commented:
"Even though John and Michael were completely exhausted (and still on cloud nine), they took time to answer our long list of questions. We were grateful for the experience and realised again: In the end it's not about mission statements on paper, but about people like John and Michael who are willing to teach and inspire others."
At the end of the meeting, the idea of the joint show was born!
Just over 12 months later, and thanks to the organisation skills of Harrie Brom, tour manager for the LGMC, and Gerald and Marco van Leeuwen for the AMSGMC, over 60 of our members flew out to Amsterdam for the show. The AMSGMC hosted a delicious welcome meal for us which gave us a great chance for the guys to meet each other, and we then gathered early afternoon on the Saturday for the technical rehearsal.
We were all incredibly impressed at how far this young choir had come, not only in how well they had jelled as a vocal group, but also the incorporation of their group of dedicated dancers. With this combination, they put on a fantastic show that truly delighted the audience.
For our part, we performed a few songs from our recent Silver Jubilee concert, UGotMale?, and also performed with the AMSGMC for sections of a few songs from the their repertoire. We then finished the concert by performing our version of Conchita Wurst's 'Rise Like a Phoenix' together.
The sell-out show went down a storm, and the reaction from the audience was incredible. Aside from a very successful performance for both choruses, new friendships were created as well as a firm bond between the two choruses.
We're already looking into the possibility of hosting the AMSGMC in the future, so watch this space. And if you're headed to Amsterdam, then check out the AMSGMC's website to see if you can catch them perform while you're there – you won't be disappointed!
Photographs by kind permission JT Loh/AMSGMC @2017
Posted by Andrew Levey
On February 4, 2017
0 Comments